Routefinder PLUS
REVOLUTIONIZING STUDENT TRANSPORTATION MANAGEMENT
Routefinder PLUS is the industry award-winning easy-to-use, full-featured, super-fast, browser-based transportation department solution that is revolutionizing school transportation. Now with Formfinder and so much more! Routefinder PLUS is Simply Smarter Routing.
Routefinder PLUS

School bus routing software, like no other on the market today
Access anywhere with lightning-fast browser-based convenience
Faster, safer and smarter route creation
Intuitive design for easier operation
Greater control of maps and routes for safer routes
NEW Routefinder PLUS Version 2.0 - School Transportation's Most Powerful Web-Based Routing Software Just Got Better.

Are you puzzled trying to find the best transportation routing solutions for all your stakeholders and customers? Transfinder has the missing piece!
The Powerful Web-Based Routefinder PLUS is better than ever with new features and enhancements with Version 2.0!
Here are some of the new features in Routefinder PLUS Version 2.0...
Exceptions on Student Schedule. Our calendar-based routing is amazing, but what if clients want to do anything they want? Yes, it's called exceptions – and it's now easier!
Create Student Schedule Exception from Schedule Grid or Routing Palette directly to any stops – regardless of criteria!
Improved Auto Data Import to included which Geocode layer to use – Address Points, Parcel or Address Range
Student Schedule Grid now has indicator if there's an exception – quickly identify if student has calendar-based schedule and has an exception
Email/Mail Merge Enhancement with Student Schedule
Open Grid option in GeoSelection – see your data quickly
Enhanced Routing Palette for clearer identification if students are getting Picked-up/Dropped-off or none
Multiple Trips can now be copied at the same time – Reverse and assign students options
Shuttle Trips now utilize Non-Eligible Zones (NEZ) defined
User defined forms with Location Based attributes – Know the location where forms were entered.

Driver Certifications
Pre/Post Trip Inspections
Student Bus Conduct
Time & Attendance
Surveys

Formfinder - interface to enter all of those user defined forms

Driver Certifications
Pre/Post Trip Inspections
Student Bus Conduct
Time & Attendance for drivers and staff
Virtually any survey or form, and so much more

Enhancements on Unassigned Student section while routing
Right-Click menu for "Open with..." from one solution to another – Very fast and seamless.
Live traffic option
And more!

---
"Routefinder PLUS is Revolutionary, Innovative, Smart, Monumental," say those customers that have seen it.

Click here for a video of what people using Routefinder PLUS are saying.
---
What School Bus Routing Software problems are you trying to solve?
Fast Routing
Lasso Students - Quickly draw a shape around the students you want to create a trip for and let Routefinder PLUS build it.
Recycle Stops – Don't lose your already pre-approved stops. Easily Move or Copy Stops from one trip to another.
Analyze Data - Simply Sort and filter any data on the fly.
Concurrent Work - Multiple routers can work simultaneously to create Trips - Have your team get it done faster.
Intuitive Interface - Right Mouse Click for fast and easy access to your data.
Save time - Update both your morning and afternoon trip at the same time.
Autonomous - Remove tedious work from your life without sacrificing the institutional knowledge of your team.
Safe Routing
Define vehicles approach to each stop. Keep Student safe by using Right-Side only pick up.
Choose which side of a corner to stop (a four-way street corner has 8 possible locations).
Prohibit students crossing streets to reach their pickup or drop off Stops.
Geocode students to Address Points or Parcel, if available. Street Address Range is least recommended.
Be alerted when a bus crosses a railroad.
Smart Routing - uses your local knowledge to optimize your trips. Routefinder PLUS gives you capabilities to define custom maneuvers, travel regions and curb approaches – which all can be categorized as Travel Scenarios. Routefinder PLUS also incorporates prohibiting options at the student level, stop level and even at street level.

Full Calendar Based Routing - Not just Monday-Friday, but any date.
Fast Implementation - Import stops from a file, Drag-and-drop, or from RouteBuilder app (future).
Sequence Optimization – Have Routefinder PLUS create the best Sequence to optimize for time or distance.
Analysis – Analyze Community and Operational Impact of the changes you've made to your trips.
Smart Sequence – Let Routefinder PLUS figure out where new stops belong while minimizing Community and/or Operational Impact.
Smart Stop Assignment – For student loading/unloading, the ability to identify street crossers or prohibit street crossing to bus stops. Smart Assignment can prohibit students crossing streets and is assignable to the student level or in groups. If you are concerned about ensuring righthand or curb-side pickups – the "Smart Assignment" feature in Routefinder PLUS is a necessity for your district.
Optimize Selected Trips - Have Routefinder PLUS reroute all selected trips. Optimization can help solve the driver shortage that you may be facing. Optimize routes to help with your driver shortage and increase efficiencies without sacrificing safety. Transfinder has moved past Optimization and have created "Smart Optimization".
Trip Absorption - Select a Trip to be absorbed by other trips.
Unlimited Shuttles and Transfers.
Create What-if Stops before adding them to trips.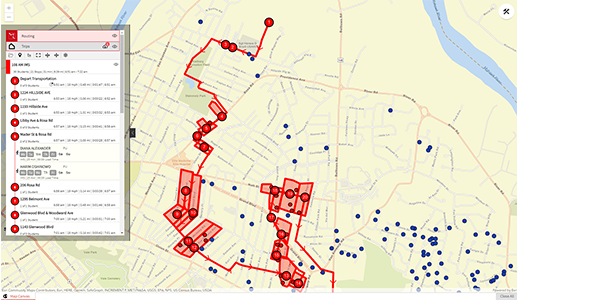 Artificial Intelligence Optimization™ "AIO"
Transfinder has made Routefinder PLUS faster, safer, smarter, and easier to use with the inclusion of AIO. School Bus Route optimization is about finding the most efficient, fastest order for stops while minimizing drive time and mileage. Artificial intelligence is always evolving, and with it, route optimization is becoming a streamlined process. With this ability at your fingertips coupled with your local knowledge, you can consistently ensure the most advanced routes and procedures are being utilized.
Map Editing
Travel Scenarios – Routefinder PLUS gives you the power to manage various travel scenarios (Example: Morning, afternoon, big bus). These travel scenarios help your Smart Routing Technology become localized and personalized, including the following:
Travel Regions - Select an area on the map to Prohibit, Restrict or Prefer buses while routing for safer and even more efficient automated routing.
Curb Approaches - Select side of Street to Prohibit or Restrict buses while routing. Routefinder PLUS helps to ensure curbside/right hand pick up of students.
Maneuvers at Junctions/Intersections - Select which turns to Prohibit or Restrict buses whiles routing for safer and even more efficient automated routing.
Multi-route editing: In Routefinder PLUS we offer the ability for Multi-route editing. You will work faster and be able to delete or edit "work" smarter.
Unlimited User Defined Fields - Create and maintain any fields with any attribute.
A Fully Custom User Experience - Create Edit and Read-only screens to meet your need.
School Non-Eligibility Zones - Define areas around a school to manage students not eligible for transportation.
Mail Merge - Create templates for letters and emails fast.
Built-in Report Writer - Create your own reports.
Data - Import or export any data.
Overlay any mapping data.
Unlimited Contacts.
Unlimited Documents attachments.
Routefinder PLUS is faster, safer and smarter – and it does not sacrifice safety!
Routefinder PLUS Birthday Bash
Transfinder recently celebrated the 1-year birthday celebration for Routefinder PLUS. We had a great time on our webinar where we talked with several clients about what moving to Routefinder PLUS has meant to their operation.

Click here for the Routefinder PLUS Birthday Bash video.

Tech Tools Webinar Series Transfinder showcases the groundbreaking Routefinder PLUS and the powerful parent app - Stopfinder.

During our 4-part series we'll provide a paint-by-number approach to how you can successfully implement Transfinder solutions, providing what we all want most: Peace of Mind.
---
New Routefinder PLUS Case Studies!