Compact District Solutions
ALL-IN-ONE K-12 TRANSPORTATION SOLUTIONS FOR SMALLER DISTRICTS
No matter your district size and location, Transfinder has the easy-to-use routing solution for you. Our suite of solutions are more cost-effective than you think and will definitely save you time, money, increase efficiency and help to ensure safer routes and trips for your students.

What category are you in?
Are you routing on paper? It's all in your head?
Think you are too small of a district for routing software?
Believe your routes don't change?
You are short on drivers and need to consolidate?
You are using a software that simply has not met your needs?
Let us introduce you to Routefinder PLUS and Joe Altieri, our Compact District Consultant.
---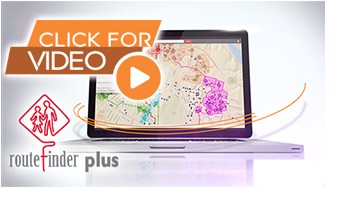 Routefinder PLUS is the fast, easy-to-use browser-based solution that received an Innovation Award for the Best Software by those in school transportation attending the STN EXPO Reno Conference. You can create routes from your properly mapped students. Routefinder PLUS is the foundation that allows you to ease into more advanced solutions as you want and need.
Some great features include Formfinder, Chatfinder and the right-click menu in a browser that has the ease of use of a desktop product and the ability to complete many common tasks with just a few clicks.
Automatically stay in sync with your Student Information System
Missing a driver? Consolidate routes with a single click.
Set right side pickups to ensure the safest stops.
Have multiple maps and routes open at the same time, Saving YOU time!
Apply local knowledge to your maps and driving paths. Because you know what streets to avoid at certain times of the day!
Smart and Safe Routing - automated route planning.
Quickly send emails or postcards with student schedules using Mail Merge.
Modify your maps to add new roads and developments. One-size-fits-all maps like Google have no place in safe and efficient school bus routing.
Electronic Form Management to digitize your paper forms. Driver certifications, trip inspections, school bus discipline, etc. all in one place.
Click here to hear what customers are saying.
---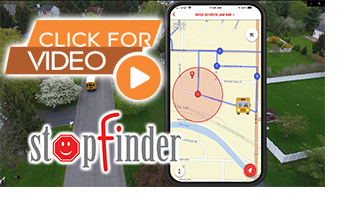 Stopfinder – The all-in-one parent engagement app provides vital information in real-time to parents and school transportation departments.
Send targeted parent notifications instantly.

Notifications are sent directly to their smartphone.
Chat and receive feedback from parents/guardians. Parents can alert the district of a discipline issue or bus stop concern, for example.
With GPS parents can set up an alert when the bus is on the way.
Create forms such as transportation requests such as after school trips. Parents can also submit changes in a student guardian pickup. All the things you do on paper now can be done electronically very easily, making it trackable and easy to find when you need it.
See how Stopfinder with GeoAlerts works here.
Read more on Stopfinder here.
---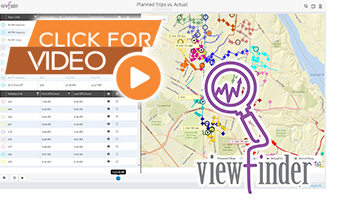 Viewfinder - Anyone provided with access to Viewfinder may monitor the health of day-to-day operations of your transportation department from any mobile device or computer. Quickly access updates on students, trips, field trips, vehicles, and staff to ensure your operation is running smoothly.
Anyone in your district may monitor the health of your operation with real-time information.
Have immediate access to mission-critical information - when speed counts and time matters. Imagine having all the information EMS personnel and your team needs at the scene of an accident or emergency.
View Planned Trips vs. Actual data as it relates to your attendance in real-time.
Schedule reports to run automatically on the days/time you specify and emailed to the personnel you designate. You will be able to support your requests for additional funds or changes, even more staff, with easy to run reports.
Read more on Viewfinder here.
---
Wayfinder is the easy-to-use, all-in-one in-vehicle app that works with your Routefinder PLUS maps to assign trips, add or decline trips, make vehicle substitutions and provide turn-by-turn voice guidance to your drivers (and substitute drivers), as well as take attendance... and more!
Build routes just using the drivers GPS
Take attendance on

your tablet

– perfect for Medicaid reimbursement
Voice and screen navigation on your tablet. No more paper sheets blowing in the wind distracting a driver or a substitute driver. (Screen can go dark while driving, based on State laws)
Leverages your planned routes and maps, making sure drivers always follow the plan.
Get tablets from Transfinder or bring your own device (BYOD). We also work with other companies.
---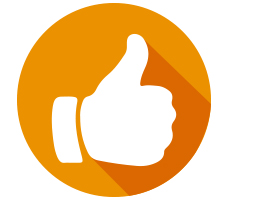 These solutions are all part of a complete transportation department technology support package. You can get them together or start with PLUS then add from there.
Other solutions such as Tripfinder, our field trip management software, also may be of interest. Joe is more than happy to discuss other solutions too or customize the solution for your needs today and into the future.
Our solutions are more cost effective than you think and will save you time, money, increase efficiency and help to ensure safer routes and trips for your students. We can also improve the ability for you to create reports and identify deficiencies so you can better inform the district administration. Click here for video.
Give Joe a call at (518) 723-8107 or (518) 441-3028 (cell) or complete our Contact Us form to connect with Joe Altieri our Compact District expert. Don't wait, do it today.