Yes, I am interested in receiving more information for:
Transfinder University Course Offerings
For more information on a class that you would like to attend, please click the map marker at the location you wish and complete the short form. We will get back to you shortly with more information. Courses that are offered as "Livestream" (an online course), are available from your computer anywhere.
Upcoming Events
Date
Location
RSP = Routing Software Proficiency ¦ ROS = Routing Operational Strategies
RSP-online ¦ ROS-online
---
Speaking on Transfinder University Livestream
Hear what clients that recently particpated in Transfinder University Livestream training had to say about the training...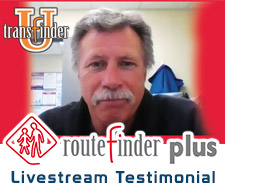 Steve Leslie from Osceola School District, WI Talks about Transfinder University Livestream Routefinder PLUS Training.
"It was really well put together. It was extremely condensed. The presenters presented it well. I think it's silly not to go. I am glad I did it right away."

Click here to see the Routefinder PLUS testimonial.

Here's another from Phil Thompson, Cherry Creek School District No. 5
"It's online but not much different than in-person. You're in a classroom with slides versus a computer with slides. The trainers kept everyone active and included enough in the training to always be doing something. The moderators and trainers were really good at circling back if you got behind."
"I would definitely refer this training to someone else. It was worth it. I learned more short cuts, new enhancements between v.11 and v.12 and helped clarify things for me like why you would use the routing map versus the map viewer. The trainers were really good and knowledgeable so you're always going to learn something. They managed the training well and kept everything going."

---
We are proud to offer yet another way for our clients to learn how to use Transfinder's solutions through a variety of training resources called Transfinder University!
Our philosophy is to conduct training programs that enable our Clients to improve in their effectiveness on the job. We believe that training should be relevant to the needs and experiences of our Clients. Our goal is to provide a balanced curriculum that includes professional and technical skills.
We also believe good training is interesting, enjoyable, challenging and practical. We facilitate the learning of the attendees by using professional training methods, well-designed materials, coaching and reinforcement techniques – all with genuine enthusiasm mixed throughout.

Routing Software Proficiency Training
Transfinder University is an intensive three-day session. The hands-on, instructor-led Routing Software Proficiency course and the Routing Operational Strategies course are offered at Transfinder's headquarters in Schenectady, New York and also at our satellite office in Austin, TX.
The Routing Software Proficiency onsite course covers specific topics that will ensure clients will become proficient users of Routefinder Pro including:
Geocoding
Map Editing
Pre-Routing
Routing
Reporting
Adding to our popular Transfinder University course list, the Routing Operation Strategies class is the next step in becoming more proficient in Routefinder Pro. The goal is to enhance product use, not just product knowledge. The class covers daily and monthly considerations that will keep your routing running smoothly throughout the year.
The Routing Operation Strategies class includes advanced tool usage including:
Building and using filters
Importing from external data sources
Preparing your data for reports
Advanced security administration
And more!
The course is for anyone who wants to improve their proficiency and efficiency with Routefinder Pro, regardless of current position. *Suggested Prerequisite Course: Routing Software Proficiency
This structured curriculum held at Transfinder allows clients to focus on training without being distracted from day-to-day issues. Clients will leave this training equipped with know-how and experience to take back and use at their district.
For more information on Transfinder University or to register, call 888-427-2403 or email marketing@transfinder.com. Put Transfinder U in the subject line.