Stopfinder
THE ALL-IN-ONE PARENT ENGAGEMENT APP TO HELP FIND THE BUS
Stopfinder is the easy to use, all-in-one parent engagement app designed by parents for parents. Know where your child's bus is and have the most accurate information about your child's bus schedule in the palm of your hand. Enhance communications with push notifications and 2-way messaging. Use GeoAlert zones to know where your child's school bus is while it's in route. Stopfinder is the only parent app that integrates directly to the proprietary Routefinder data, ensuring real-time accurate updates are provided to parents as you update Routefinder throughout your day.
Stopfinder – The All-in-One Parent App for School Bus Route and Stop Information – Now with Forms and Options for GeoAlerts and ETA

Stopfinder, from Transfinder – the leader in school bus transportation software, is the easy to use, all-in-one parent app designed by parents for parents. Know in real-time where your child's bus is and have the most accurate information about your child's bus schedule in the palm of your hand. Leverage Forms for Surveys, and requests and other operational needs.
Only with Stopfinder can you have 2-way communication. Receive push notifications and send messages to the school transportation department. You can track multiple buses if you have more than one child in school and know exactly when your child arrived at school.

On a typical day, Stopfinder is the...
Stopfinder is the easy-to-use, all-in-one parent app designed by parents for parents. Stopfinder enables registered users (subscribers) to see their children's bus schedules in real-time. The transportation department and registered users stay connected by sending and receiving messages through the secure Stopfinder app. Registered users are provided with the most accurate information about a child's bus schedule directly to their phone.
Stopfinder is the fully integrated and secure communications solution for Transfinder clients. We know that the accurate data behind a parent app is critical to keeping parents up to date. We also know that schedules and plans change for any number of reasons and circumstances. Stopfinder is the critical link that connects your constituents (parents and guardians) with the latest routing and bus stop information. With Stopfinder you can easily send the latest information to parents districtwide or on other criteria, such as grade, school or selected map region. Using GeoAlerts, the subscriber may also get notifications when the school bus arrives or departs the school, bus stop or any point along the school bus route.
Provide parents with that peace of mind.
Stopfinder will be available based on different service levels to best meet your school district's needs.
Stopfinder Communication
Stopfinder GeoAlerts
Stopfinder ETA ( *note additionally requires Wayfinder Navigation to be running.)
Stopfinder Communication:
Use your Student Information System data to send electronic invitations to parents and guardians to participate in an easy onboarding process.
Provide reliable and secure bus stop information.
Enjoy secure two-way communication with registered parents and guardians (subscribers).
Send messages to subscribers based on grade, school, route, selected zone or any criteria.
Receive messages, including attachments (photos and documents), from subscribers.
Reduce misinformation and confusion with timely updates. (For example, bus substitutions are clearly indicated).
Give your parents a greater peace of mind as their confidence increases knowing they are in the loop about their children's school transportation.
Use Stopfinder Forms to capture information quickly and easily through the Stopfinder app:
Send surveys/questionnaires
Choose from several question types to accurately collect data
Schedule forms to be sent automatically
Create forms for transportation requests, after school or activity trips, and more


Listen and Respond to Your Community
With Stopfinder's two-way messaging, your school district transportation department can send messages to a registered parent or guardian based on specific routes, specific stops or schools or even selected map areas.
The options are virtually endless in terms of how you can communicate and segment your target audience.
Plus… only Stopfinder offers the feature for registered parents to send a message to the transportation department via the secure app messaging component. These messages can include pictures and documents, which you can add as attachments. For example, imagine unplanned construction taking place at a bus stop, making the stop less than ideal. A parent can snap a picture and send it to the transportation office easily through the app. The district can respond back, thanking the parent for the information, make adjustments to the bus stop and then send a note to all parents with children at that stop with the change.
Talk about being responsive.
Quick and easy two-way communication to make your day easier and students safer. Using feedback to build relationships in your community.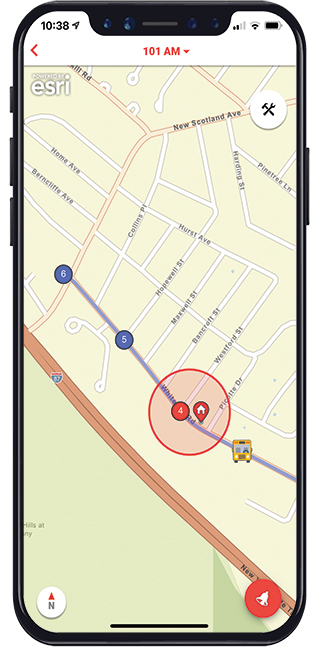 Stopfinder GeoAlerts includes Stopfinder Communication. Stopfinder GeoAlerts does incur additional subscription fees and requires a Transfinder approved GPS hardware provider.
Only Stopfinder and Routefinder provide real-time bus location information to parents / guardians (subscribers).
What is Stopfinder with GeoAlerts? It is kind-of like ETA. Not only does the Parent / Guardian (Subscriber) know where the school bus is (find my child's bus). But the Stopfinder administrator or subscriber can create multiple alert zones at various locations. Alert zones can provide early warnings of the approaching bus or landmark points of the bus location. No other parent app offers this much flexibility. No other school bus parent app provides this information real-time with your Routefinder data.
With GeoAlerts
Administrators, Parents & Guardians (subscribers) have the ability to define drop-off and pickup point zones they want to be alerted of when a buses through (called "alert zones.")
Parents or guardians will know where my students' bus is in real-time.
Create an "alert zone" at any one of your children's stops or schools.
Create an "alert zone" at any point in a student's route, not just at stops or schools.
Allow for School Bus substitutions.
View the history of your students' arrivals and departures.
Select "on" or "off" for arrival or departure alerts for any point in the route. Know when the bus enters and/or leaves a selected alert zone.
Planned route can be shown or hidden by the Stopfinder Administrator in the transportation office.
Integrate directly to your Routefinder data for ensured accuracy and speed.
Each parent / caregiver has the option for multilingual options in the app.
With ETA, Transfinder is utilizing all the variables that can change day to day to provide an ETA that is reliable.
Subscribers can add their own ETA alerts for each of their students.
ETA Alerts are based off how far the bus is from the student's assigned stop.
ETA Alerts can be created to be sent when the bus is 5, 10, 15, or 20 minutes away.
ETA alerts will appear as a push notification on the subscriber's device and on the student card when they are using the Stopfinder app.
** The Stopfinder ETA feature requires clients to be using Wayfinder Navigation and Stopfinder.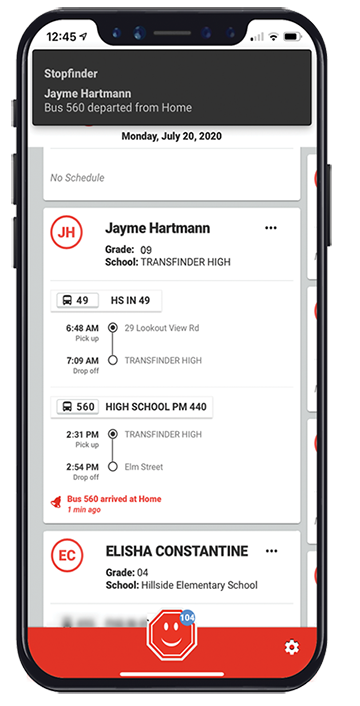 Reliable and Great Routing Software is at the Core of Stopfinder.
Backed by the best routing solution in the industry, Stopfinder taps into your routing data for accurate bus schedules and allows you to easily push out notifications or send messages via the secure Stopfinder app.
Stopfinder is built upon the 30-plus year reputation and innovation of Transfinder and the most powerful routing solutions available today – Routefinder PLUS and Routefinder PRO.
Providing Peace of Mind and Ease of Communications to Parents and School Districts
Stopfinder is here and will change how we all communicate with our school district transportation department.
With Stopfinder, registered parents and guardians can receive push notifications with any changes to your child's bus schedule or inform you when there has been a schedule change or change in route.
Registered users may send messages and attachments to the transportation department.
Stopfinder can also track multiple buses if a parent has more than one child in school and know exactly when your child arrived at school.
With Stopfinder, registered parents and guardians or family members will now know their child's bus schedule, and can set up "alert regions" on their child's route, so they can be informed where the bus is and when they want to know its location. And this is all available on your smartphone or tablet. .
The school district can even customize Stopfinder to send registered parents or guardians notifications and updates.
The Stopfinder app is secure and protected. Access to parents or guardians is only granted to those that have permission from the school transportation department.
Only Stopfinder works seamlessly with Routefinder PLUS the industry's newest and most powerful Web-Based Routing Software. Because routing is the core of everything the transportation department does.
Stopfinder was created by Transfinder, the industry leader in location intelligence and school bus routing software and trusted by more than 2,000 school districts in North America for the safe transportation of millions of students every day.
Download the Free App Today!*
The app can be downloaded to any iOS or Android-enabled device and is available at the Apple App Store and Google Play Store.
*To use Stopfinder the school district must have the most recent Routefinder software from Transfinder. The school district must have purchased the Stopfinder Communications solution to get two-way messaging and schedule operational. The school district administrator must issue parents or guardians registration requests and the parent or guardian must accept the registration request by clicking on the link provided.
School personnel - If you have a technical or set up question for Stopfinder and work for a school district, please contact Transfinder Support.
If you are a parent or caregiver - PLEASE CONTACT YOUR SCHOOL DIRECTLY ABOUT STOPFINDER.
---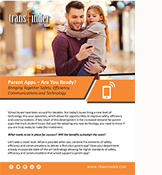 Is a Parent App Right for Your School District? Click here for our Parent Apps – Are You Ready? White Paper.
---
Stopfinder! How to Engage Your School Community to Sign Up, Log In and Use!

Transfinder's Stopfinder parent app is the most powerful parent app in the industry. It's ever-expanding capabilities include the ability to track a student's school bus in real-time and parents can receive an ETA on their child's return home. In this webinar, we provide tools and tips on how to increase user signups and speak with districts that have a high engagement rate. We hear what worked for them. Finally, you will learn about all the resources available to you to help you get the most out of the Stopfinder app and better serve your community that increasingly wants to be "in the know" and have the latest information at their fingertips.

Click here for the Stopfinder video.

Stopfinder: Learn How This Must-Have Tool is Unlike Any Other "Parent" App
Learn how Stopfinder will take your transportation operation and your community to the next level. Beyond the ability to track your student's bus in real-time, Stopfinder makes two-way communication easy, allowing parents to reach district personnel quickly. With Stopfinder, drivers can quickly take attendance, a function that these days is more critical than ever. And now Transfinder takes Stopfinder to the next level with forms to intelligently get the pulse of your community.

Click here for the Stopfinder video.