Patrolfinder
IMPROVE COMMUNITY SAFETY BY MAXIMIZING DETERRENCE AND UTILIZING PREDICTIVE ANALYSIS
Patrolfinder is the cutting-edge software solution at your officers' fingertips. Accessed on the tablets of your patrol officers and student resource officers, Patrolfinder helps increase equitable policing, improve department transparency, improve officer safety and officer efficiency. Patrolfinder will help your officers make better decisions. The result: Better community relations and a safer city.
What is Patrolfinder?

Patrolfinder is a revolutionary new policing software created to:

Increase Equitable Policing
Improve Department Transparency
Improve Officer Safety
Improve Officer Efficiency
Patrolfinder will help ensure that your community is safer by making sure each corner of your region is being patrolled regularly. Using your city's street maps, your department's vehicles, patrol zones, and patrol goals, Patrolfinder provides patrol officers and administrators with insights into where and when patrols have occurred. With this information departments can better serve communities, officers can more efficiently patrol, and administrators can analyze coverage and observe real-time patrol.

Now, with Patrolfinder, information is being relayed from shift to shift so officers can see on a map what areas have been covered and what zones need attention. And during their shifts, officers also know where their fellow officers are in case of an emergency, increasing their own safety on the job.
Patrolfinder is a browser-based application that can be accessed from anywhere. With the mobile app, patrol officers can view their patrol zone and see which streets and points of interest require more patrolling. Patrolfinder features hands-free voice commands, allowing officers to safely start, pause and end a patrol while driving, cycling or walking their patrol zone.

Patrolfinder Administration is where admins can manage patrol zones, view a live map of patrol officers, add and maintain vehicles and devices, and more.

Identifying Where to Patrol
Patrolfinder uses Patrol Points and Attention Points to indicate where an officer needs to patrol. Patrol Points are located on your city's streets. As an officer patrols and passes through a designated Patrol Point or Attention Point, Patrolfinder will update the map to indicate the area has been patrolled and will automatically determine when the next patrol should occur. When each zone should be covered can be individually set based on data used to determine what areas need more of a police presence.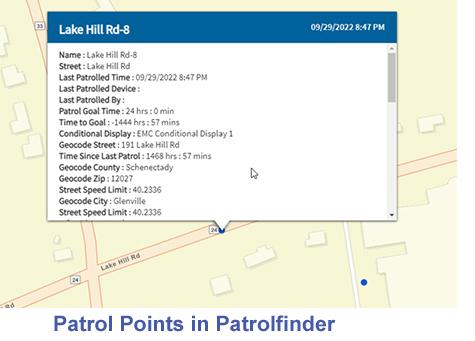 What is a Patrol Point?
Patrol Points are a set of X-Y coordinates on a street. At minimum, there will always be one Patrol Point between where a street intersects with another street and one point at the end of every dead end. This includes if the intersection is simply to take a left or right onto a new street.
Patrolfinder will already have Patrol Points defined for your department, however, additional Patrol Points can be created by Patrolfinder Admins if needed.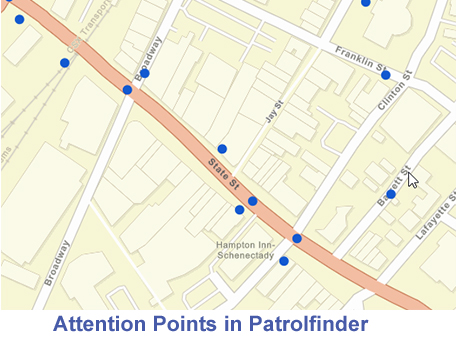 What is an Attention Point?
Attention Points are a set of X-Y coordinates that identify a location that requires patrol in addition to an area's Patrol Points.
Attention Points can be on a street but do not necessarily need to be. These are areas where there has been some sort of disturbance or concern raised, perhaps by a member of the community.
Examples of Attention Points include: public parks, gas stations, private residences and schools.
Patrol Goal Times
With Patrolfinder, Goal Times can be configured to ensure Patrol Points and Attention Points are patrolled within a time period determined by your department. The Patrol Goal time is the length of time between patrols. For example, if your department requires a zone to be patrolled every 12 hours, the Patrol Points in that area will have a Goal Time of 12 hours. When an officer traverses a Patrol Point, the current time will be used to determine when the next patrol will be required. For example, if an officer patrols a zone's Patrol Points and crosses a point at 6:00 AM, the next patrol for that point will need to be done by 6:00 PM. If the Patrol Point is traversed prior to 6:00 PM the next patrol will be 12 hours from the most recent patrol.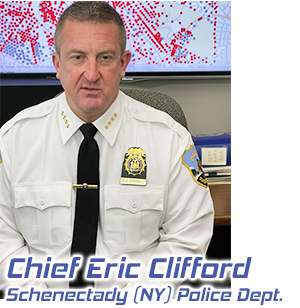 "We want officers to be mindful that when they are patrolling neighborhoods that they are doing it in an equitable way. Patrolfinder will help us show the community that we are patrolling more equitably."
Chief Eric Clifford, Schenectady (NY) Police Department
Media Inquiries
Please click here for media files.
For additional information, please contact Rick D'Errico, Director, Public Relations. Office: (518) 723-8303 / Cell: (518) 857-3053 / Email: rderrico@transfinder.com