Transfinder Named Best Software, Hardware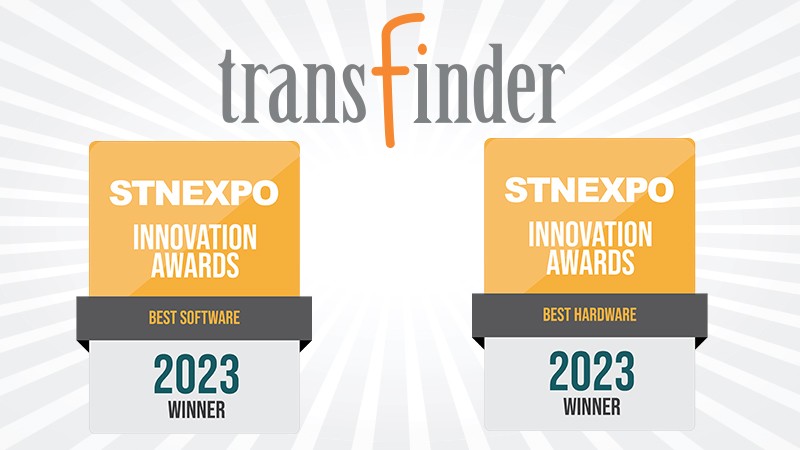 Reno, NV & Schenectady, NY – July 31, 2023 – Transfinder was voted both the Best Software and the Best Hardware at one of the largest school transportation trade shows in North America. For the first time, Transfinder took home two Innovation Choice Awards at the STN EXPO in Reno, Nev., winning Best Software for the second time and Best Hardware for the first time.
It was the first time Transfinder entered the hardware category.
Transfinder President and CEO Antonio Civitella said the industry has been clamoring for a "One Partner, One Solution" provider in recent years which is what led Transfinder to launch its own brand of Samsung Tab Active 4 Pro Telematics Tablets with RFID reader for student attendance and tracking.
The Transfinder Telematics Tablet is rugged and can be easily removed from its mount. The tablet works seamlessly with Transfinder's driver app Wayfinder to display turn-by-turn directions for drivers and track student attendance as they scan onto the bus.
In the Best Software category, Transfinder showcased at the tradeshow its browser-based routing solution Routefinder PLUS, the Stopfinder parent app, driver app Wayfinder and Servicefinder, Transfinder's completely overhauled fleet and asset management solution.
"What an honor it is to be recognized as having the best software and the best hardware by school transportation leaders who rightfully demand the very best for their departments," Civitella said.
The STN EXPO drew 520 attendees to Reno, Nev. July 16-20. To be eligible for the award, exhibitors had to submit details about an innovation for a product, solution or vehicle that was brought to market during the past 18 months.
"We know the issues transportation departments are dealing with on a daily basis. They need – and want – more than just solutions. They want a partner that is practically in the office or on the bus with them to help them navigate these challenges. That's why Transfinder had to build the 'One Partner, One Solution' platform that combines hardware and software. We're not the first to move in this direction. Companies like Apple and Google have been doing it for years. With our clients transporting the most precious of cargo, it became imperative that Transfinder move in this direction as well."
Tony Corpin, President and Publisher of School Transportation News, praised Transfinder for the back-to-back win.
"I want to congratulate Transfinder on winning the STN EXPO 2023 Innovation Choice Awards for both Best Software and Best Hardware," Corpin said. "The newest products and innovations have captured the attention of school transportation professionals at the largest school transportation conference in North America."
About Transfinder
Founded in 1988 and headquartered in Schenectady, New York, Transfinder is a national leader in intelligent transportation systems, providing transportation management systems and services to municipalities and school districts. Transfinder's award-winning technology routes one in four students in North America. The company is one of the fastest growing companies in New York's Capital Region, according to the Albany Business Review. At one point, Transfinder landed on Inc. magazine's fastest-growing private companies list for 11 consecutive years. Transfinder has offices in Austin, Texas, and Shanghai, China. The software and hardware company has repeatedly been named a Best Place to Work, a Top Workplace and Best Company to Work for in New York State. For more information, visit www.transfinder.com.