NY State SHRM, Best Companies Group Name Transfinder a Best Company to Work for in NYS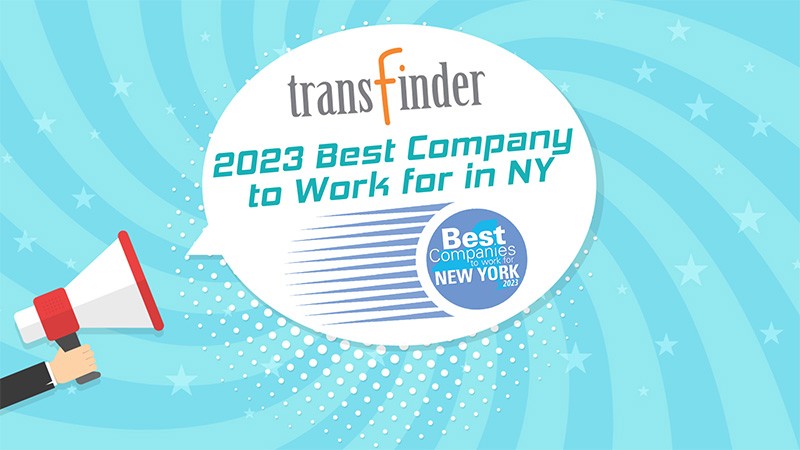 SCHENECTADY, NY (March 24, 2023) ­- The New York State Council of the Society for Human Resource Management, Best Companies Group and Rochester Business Journal have named Transfinder Corp. as one of the Best Companies to Work for in New York.
Transfinder, based in Schenectady, develops transportation management software and serves more than 2,300 school districts in North America.
In a companywide note announcing the award to his team, Transfinder President and CEO Antonio Civitella said:
"Winning these awards never gets old and I never take them for granted," Civitella said. "I appreciate each and every one of you. The work we do is important, it's meaningful and I believe saving lives plays a big role in preparing the next generation. With 1 out of 3.5 students in North America taking a bus routed by Transfinder, you know we have to be routing buses taken by some future presidents, judges, doctors, researchers, engineers and, yes, future Transfinder team members! Our work impacts so many people across the country and locally too! Congratulations, everyone! It's because of you and how you feel about Transfinder that makes us one of the Best Companies to Work for in New York State."
Best Companies to Work for in New York identifies, recognizes and honors the best places of employment in New York in three categories: small companies (15-99 employees), medium companies (100-249 employees) and large companies (250 or more employees). To be considered, companies must have at least 15 full-time or part-time employees working in New York; be a for-profit or not-for-profit business or government entity; be a publicly or privately held business; have a facility in the state of New York and be in business a minimum of one year.
Best Companies Group managed the overall registration and survey process and also analyzed the data and used their expertise to determine the final rankings.
There were two parts used to determine the rankings. The first consisted of evaluating each nominated company's workplace policies, practices and demographics, worth approximately 25 percent of the total evaluation. The second part consisted of an employee survey to measure the employee experience, which consisted of 75 percent of the total. The combined scores determined the top companies and the final rankings.

"The 2023 Best Companies to Work for in New York know that the people in their organizations are the key to their success. The companies foster a positive environment for innovative teams to thrive," said Suzanne Fischer-Huettner, managing director of BridgeTower Media. "We are pleased to join our partners, the New York State Council of the Society for Human Resource Management and the Best Companies Group, in honoring these businesses."
The winners will be honored April 19 at a celebration at the Hilton Albany, 40 Lodge Street in Albany.
For an updated listing of sponsors and more information about the event, visit RBJ.net/events/best-companies/. For more information about the Best Companies to Work for in New Yorkprogram, visit bestcompaniesgroup.com/best-companies-to-work-for-in-new-york/.

About Transfinder
Founded in 1988 and headquartered in Schenectady, New York, Transfinder is a national leader in intelligent transportation systems, providing transportation management systems and services to municipalities, school districts and adult care facilities. Transfinder, an Inc. magazine "fastest-growing company" for 11 consecutive years, has offices in Austin, Texas, and Shanghai, China. The software company, named a Best Place to Work and Top Workplace and Best Company to Work for in New York State, develops and supports routing and scheduling solutions for optimal transportation logistics. For more information, visit www.transfinder.com.
About the New York State Council of the Society for Human Resource Management
The New York State Council of the Society for Human Resource Management promotes the education/professional development of members in New York State through support of SHRM services. The organization also creates value for and serves the interests of SHRM members and promotes the progress and presence of SHRM to the human resources community in New York State through programs, conferences and other activities. For more information, visit nys.shrm.org.

About Best Companies Group
Since 2004, Best Companies Group has specialized in identifying and recognizing great employers to work for. Best Companies Group is an independent research firm that ranks companies based on established research methodology. The surveys provide actionable, hard-to-obtain data that companies use to improve employee recruitment and retention. For more information, visit bestcompaniesgroup.com.

About the Rochester Business Journal
The Rochester Business Journal has served as the leading source of business news and information in Rochester, N.Y., for 36 years. In addition to its website, RBJ.net, and weekly print publication, the Rochester Business Journal publishes more than 25 special products a year including Book of Lists, Explore Greater Rochester, RBJ 75 and Schools Report Card. The Rochester Business Journal also hosts 11 annual events to recognize excellence and provide leadership opportunities. Those events include Forty Under 40, Icon Honors, Women of Excellence and Reader Rankings. In addition, the Rochester Business Journal facilitates virtual panel discussions bringing local experts from the business community together to discuss current topics and trends. Its Digital Marketing Solutions helps customers with social media, search engine marketing and optimization, retargeting, email marketing and more. The Rochester Business Journal and its sister publication, The Daily Record, which covers law and real estate in Western New York, are part of BridgeTower Media, the leading provider of B2B information, research, events and marketing solutions across more than 25 U.S. markets and industries.