The Benefits of Choosing School Buses for Student Transportation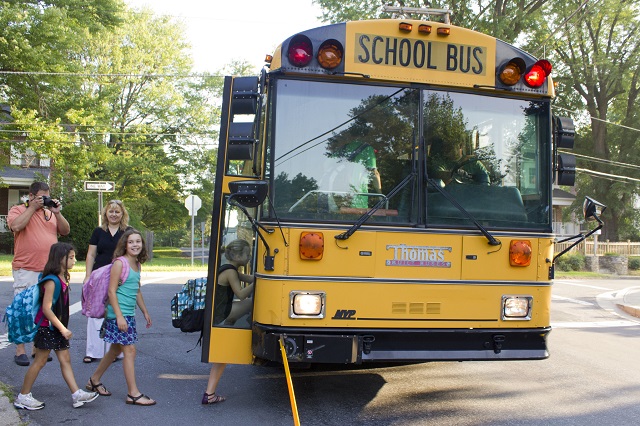 Image Credit: woodleywonderworks / flickr
Many parents and guardians choose to make use of school buses nationwide, and they have plenty of great reasons to do so. School buses work towards improving safety, reducing tardiness, and contributing to the overall growth of kids. Let's take a look at many of the benefits of choosing school buses for students.
Safety
Of course, parents' and guardians' first concern about their children is their safety. School buses have continuously proven they have a lower accident rate than passenger cars, and in most areas, prospective drivers are required to pass meticulous tests before they are allowed to get behind the wheel. Driving records and criminal histories of prospective drivers are also looked at closely before they are allowed to transport students anywhere. This, in turn, makes parents feel a sense of safety as well.
School buses themselves are also built to be safe, as they are made with a lock so students cannot get out when the bus is moving as well as closed windows that remain closed but can be taken out in case of an emergency. Of course, school buses are also hard to miss seeing as they are a bright yellow color and have stop signs off the sides of them. Most also have identifying numbers on the back of them in case of any emergencies.
Socialization
Some people will tell you they made some of their most valuable friendships on none other than the school bus. Gaining the ability to create personal connections at a young age is critical, and the school bus is a perfect place for it to start. Many students prefer to ride buses with their friends instead of sitting in the car with their parents.
Image Credit: Nipponeselover, CC BY-SA 3.0, via Wikimedia Commons
Reduce Tardiness
If you survey a group of parents about the pros of choosing school buses for their kids, most will tell you it is a huge benefit that buses are on time and they will consistently come unless school is canceled regardless of factors such as weather. School buses are extremely critical for many parents who have children attending different schools from one another, as there are no pickup/drop-off snags and delays.
School districts spend a lot of time figuring out what the best routes are for each of their school bus fleets. They work meticulously to make sure bus stops are accessible for all students and none of them will have to walk long distances to get to their buses. By doing this, they also work to ensure that classes will start on time every day.
Of course, having students take school buses also allows parents and guardians more time for their own chores in the morning, meaning they can get to work on time as well. Additionally, families who do not have a car do not have to be chasing down rides for the students every day if a bus is available.
Many are Trackable
As time goes on, more and more school buses are equipped with GPS technology so parents can track their children. This is not only helpful because parents can know what time their children get to school and what time they'll be arriving home, but it can also give parents peace of mind in the unfortunate event of a local emergency.
School districts are also able to track which students did not board the bus any given day and can then check with the parents or guardians to make sure the students are safe and also notify the parents or guardians that their kids are absent.
Life Lessons
Backpack? Check. Sweatshirt? Check. Lunch box? Check. Opting to have kids ride school buses can also teach responsibility lessons, as they need to keep their belongings with them at all times, including when they get on and off the bus.
Time management skills can also be taught through taking a bus to school, as kids must be on time so they don't miss it. Punctuality is critical, as most bus drivers will not wait for kids who are not ready to board the bus at their scheduled times. Students must wake up on time, do their morning chores, and be waiting for the bus when it comes every single school day. This is a skill that will carry on into adulthood and the working world.
Make Schools More Attractive Choices
Of course, some students are assigned a school based on the district they live in, but others are not. Schools that offer a bus are more attractive to parents and prospective students, as providing bus transportation makes it easier on the whole family in both the mornings and the afternoons.
Reduce Traffic and Pollution
Nobody likes sitting in rush hour, and if kids take buses, their parents don't have to be on the road on their way to schools and home at that time. Most buses hold between 50 and 100 students, therefore cutting down on the number of cars on the roads. Traffic congestion can make everyone late to wherever they are going, but having students ride buses greatly reduces this.
Of course, less cars on the road also means less pollution, as there are not as many emissions being released by vehicles. Over time, it is expected many school buses will be electric, too, meaning they will not release the same toxins into the environment.
Save Money and Create Jobs
In most areas, opting to send students to schools on buses is more economical for families than driving to and from school every day. The fees for buses - if applicable - are usually lower than the average price of gas a family would pay to drive students to and from school. This figure, of course, will vary, but in a lot of cases families can save hundreds or thousands a year by opting to use school buses.
In addition, school buses create jobs for many people. Many bus drivers have been shuttling kids for decades and absolutely love their jobs, while others do it as a part time gig for extra cash and some choose to use it as a post-retirement form of income. Regardless, school buses employ many people, which is good for local communities.
Overall, school buses are a win for everyone involved.