Improving School Bus Fleet Maintenance with Software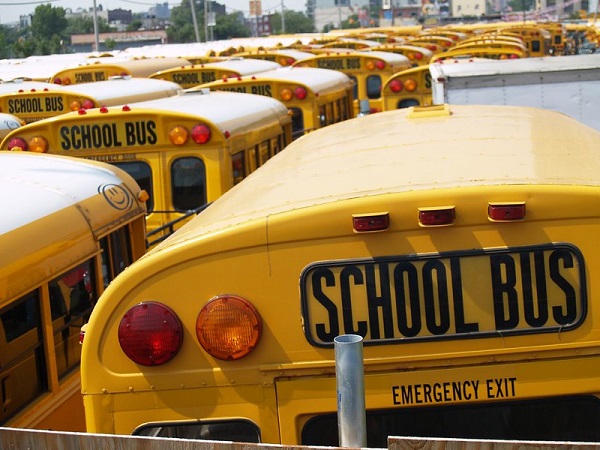 Image Credit: Andrei! / flickr
School bus fleets need to be in good condition to transport students safely. Maintenance software lowers the cost of operating a school bus and greatly improves student safety.
Maintaining a school bus is a complex process and a huge cost for any district requiring a lot of attention to detail. It can be difficult for fleet managers to keep up with all the maintenance tasks because so many aspects need attention. It's not just about the vehicle itself but also about the driver's well-being, the student's safety, and the environment.
One key aspect of effective school bus fleet maintenance is inventory management and tracking. This allows fleet managers to keep track of the parts they have on hand and when they need to order new parts, reducing downtime and costs due to unexpected breakdowns or repairs.
Another crucial aspect of school bus fleet maintenance is the requirement for pre- and post-inspections by the Department of Transportation (DOT) to ensure the buses meet safety standards and regulations. Maintenance software allows these inspections to be scheduled, tracked, and recorded, making it easier for fleet managers to comply with DOT regulations.
Image Credit: planet_fox / Pixabay
Makes Scheduling Maintenance and Repairs Easy
Why use software for scheduling maintenance?
The required school bus maintenance process includes preventive and corrective maintenance, which includes routine inspections, tire replacement, and oil changes. Preventive maintenance helps detect potential problems before they happen. This is done by performing a pre-trip inspection on every bus before it leaves the facility.
However, there are a few challenges that come with this process:
1 Lack of communication between drivers and mechanics
2 Lack of knowledge about how to perform routine inspections
3 Lack of tech-savvy mechanics
School districts are using software that allows them to manage the maintenance of their school buses. This includes scheduling, tracking, and managing the parts inventory, and managing vehicle inspections. They can track how often they need to wash their buses and how many times they need to refuel them. This way, they can ensure that the buses are properly taken care of and that their drivers have enough time between routes to take care of the bus. This software can cover scheduling, routing, and dispatching of buses as well as for tracking their performance. A fleet management software can help by automating some of these tasks and providing alerts when something needs attention.
Save Time
Maintenance, scheduling, routing, and rescheduling all take time and coordination.
A school bus fleet management system can be very useful for districts with large fleets or those that have a lot of buses in need of repair. A district can use this type of system to track all the different types of repairs that need to be done on each bus, as well as when they need to be done.
Up until now, school bus fleet maintenance has been a time-consuming process. The maintenance team would have to manually check the bus for any damages. If they found any, they would have to create an estimate and then send it over to the shop for repairs. This whole process would take days or even weeks at times.
But thanks to school bus fleet maintenance software, this whole process has become much more efficient. Nowadays, when the team finds damages on a bus, they just scan it with their phone and the software automatically creates an estimate with all the necessary information like cost estimates and parts needed. They can also track past repairs and monitor when buses need their next scheduled service appointment to avoid any future issues. A school bus fleet management system can be very useful for districts with large fleets or those that have a lot of buses in need of repair. A district can use this type of system to track all the different types of repairs that need to be done on each bus, as well as when they need to be done.
Save Money
Fleet maintenance software can also reduce the cost.
School buses are not just for transporting students to and from school. They are also used for special education programs, field trips, athletic events, and other activities. With the increasing number of buses in schools and the rising cost of fuel, it has become increasingly difficult to keep track of all the maintenance and repairs needed on these vehicles.
School bus fleet maintenance software helps reduce your costs by automating routine tasks such as scheduling inspections, keeping track of vehicle mileage, generating vehicle inspection reports, as well as performing preventive maintenance tasks such as oil changes or tire rotations.'
The software provides a centralized database for storing information about all buses, such as their location and condition, which can be accessed by administrators or drivers. It also tracks fuel consumption, maintenance and other expenses related to the vehicles. The system is designed to help save money by providing a more efficient way to manage the maintenance of school buses and other fleet vehicles. It's also useful for the drivers because it allows them to communicate with each other about upcoming inspections or necessary repairs. What gets measured, gets managed.
Stay in Compliance
To stay compliant with the law, school bus fleets need to be able to track and maintain several important pieces of information about their fleet. This includes things like the make and model of each bus, the total mileage on each bus, how many miles are driven per day on average, how many miles are driven per week on average, how much fuel is used per mile traveled and more.
School Bus Fleet Maintenance Software can help fleets keep up with these requirements by providing them with a system that automates the process of tracking all this information. The software is designed to be easy-to-use and simple for any member of staff to use. It also provides fleets with an easy way to generate reports based on specific criteria they want (such as fleet size or model) to keep track of their compliance status.
School bus fleet maintenance software has been proven to be the most effective way to hold drivers accountable. This type of software is the best way to keep track of maintenance and repair records, as well as fuel consumption. It can make sure drivers stay focused on scheduling and routing. The software makes sure that drivers are not forgetting any tasks with updates, tasks, and alerts. The driver gets an easy way to track all the tasks that need to be done and then follow up with drivers on their progress.
Cloud Hosting for Reporting
When it comes to school bus fleet maintenance, the software service response time is key. The faster the response time, the more efficient and cost-effective it is for a company. It also allows for the reporting of school bus fleet maintenance information in an easy and efficient manner.
Cloud hosting options in fleet management software means the data can be accessed through a web browser on any device and it can be used to check the status of any given bus. It also helps with scheduling, routing, and resource management. This is an important service for school buses because these vehicles are constantly being used all day every day of the year.
The average fleet maintenance software service response time is around 2 hours. This can be improved by using a cloud-based system that will be able to provide updates in real-time.
Reporting is the second factor in the This software can track the entire life cycle of a bus from the time it leaves the factory until it is retired. It monitors all aspects of a bus's maintenance, such as its mileage, engine oil changes, and brake pad replacements.
The need for strong reporting in the software is due to the increase in school buses in operation. School districts are looking for ways to save money on their transportation costs and ensure that their buses are running efficiently and safely. Detailed reporting provides them with these capabilities by monitoring how much fuel they are using, how many miles they have traveled, and when they should be serviced again.
Summary
School buses are one of the most important modes of transport in the world. They provide a safe mode of transportation for children from their homes to schools. However, they are also one of the most expensive modes of transport. This is because they require constant maintenance and upgrading to keep up with new technologies and regulations.
School Bus Fleet Maintenance Software services are a great way to stay on top of the maintenance needs of your fleet. It can keep track of all the different vehicles in your fleet and make it easy to schedule any necessary maintenance. The software is designed to provide you with a quick response time so that you can get the service done in a timely manner. It's a must-have for any school district that has a school bus fleet. It helps the district to maintain its buses, track maintenance, monitor fuel usage, create schedules, develop routes, dispatch, and predict future needs.