The All-in-One In-Vehicle App!
Enhance your fleet by using Wayfinder to Build Routes and Navigate all from your mobile device. Save time creating routes – simply drive a route and accurately capture the path, stop locations, driving directions and times.
Plus, a new version of Wayfinder is now available in the App Store and Google Play!
New updates include:
Major improvement in performance
Higher quality maps with rotating labels
Improved user interface thanks to feedback from clients
Some of Wayfinder's benefits include:
Download from the App Store or Google Play. Plus, you can bring your own device. (BYOD)
State compliant – you may choose to have the app either go dark while driving or have the screen always on.
Available to current clients with a Client ID, Username, Password.
Features variable capture rates, with capture and transmission rates up to 1-10 seconds / 1-30 seconds.
TrackMe, RouteBuilder and Navigation (coming soon).
Track speed and location of your vehicle using the accuracy of the GPS on your mobile device.
Onscreen maps rotate based on travel direction or fixed north.
Unlimited users.
Turn-by-turn voice guidance available with navigation.
Get up and running in record time with Wayfinder's RouteBuilder
Remove the stress of implementing routing solutions.
Capture and build routes with your mobile device and publish routes into Routefinder Pro. Your routes come alive as your drivers drive.
Place bus stops on your routes with ease and in record time.
Edit your routes; add, delete and move stops with ease.
Capture new roads, new developments or subdivisions.
Optimize your routes for shortest distance or shortest time.
Capture school driveways and private roads to match the "real world".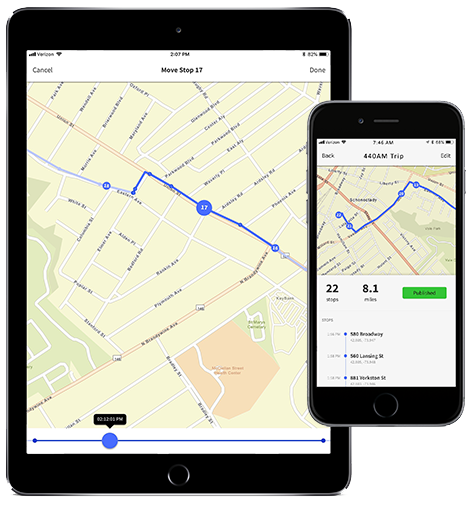 Navigate with Wayfinder
Easily Navigate a RouteBuilder created trip.
Navigate a route previously created in Routefinder Pro.
Navigate by entering your destination address or multi-stop points. Perfect for field trips or one-off routes needed.
Navigate with ease and confidence on screen and with our turn-by-turn voice guidance on your mobile device.
*Navigation is coming soon.
TrackMe
Features a live or historic GPS tracking system.
Low-cost point of entry for GPS. Use our App on your phone or tablet with no added costs.
Optimize your existing Routefinder Pro routes.
Track your vehicles in real-time with Fleetfinder.
---
Wayfinder is an app for iOS or Android users that will provide Routefinder Pro users with new and updated routes based on actual GPS locations.
Wayfinder is compliant with State regulations. Wayfinder provides a feature to optionally go dark when in motion while turn-by-turn voice guidance remains active.
Wayfinder is the latest app innovation from Transfinder that integrates with Routefinder Pro and is backed by a company with over 30 years in the industry.
Download the newest Wayfinder version today, and start routing and tracking your fleet in no time.