Wayfinder
ALL-IN-ONE IN-VEHICLE APP
Enhance your fleet by using Wayfinder to manage and complete forms such as discipline or pre/post inspection. With Wayfinder you can substitute resources, take attendance, and navigate with voice or on-screen directions, all from your mobile device. You can even save time creating or building routes – Wayfinder is the critical piece to your transportation operation by allowing you to better manage driver shortages, efficiency, substitute drivers, illegal passing, resource management and student safety, optimization and so much more all with Wayfinder.
Wayfinder: Substitution, Navigation, & Attendance
Some of the great new capabilities of Wayfinder include:

Drivers can "start Navigation from Today's Schedule"
Select and Navigate multiple trips
Updated Display – trips will now show in the same trip colors used in Routefinder
Show in the same trip colors used in Routefinder
When navigating multiple trips, each trip will show in its own color

Click here for the Special Needs Ride & Drive Experience with Transfinder and IC Bus at TSD 2023 At the TSD 2023 Conference and Trade Show, attendees experienced Transfinder's Wayfinder driver app with student ridership technology in action. See how Wayfinder can increase safety and communications for transporting students with special needs.
Click here for Transfinder's Wayfinder Interview at TSD 2023 Tony Corpin, publisher at School Transportation News, sat down with John Daniels, vice president of marketing for Transfinder, to discuss the live demonstration of Transfinder's routing software during the 2023 TSD conference Ride and Drive event and how the latest technology innovations impact the transportation of students with special needs.

Click here for Transfinder Best Practices: Technology Down the Road that Could Impact Your District School transportation is changing rapidly like never before. Technology is playing a key role in helping districts, small and large alike, keep up. In this webinar we feature clients talking about the benefits of Wayfinder and how technology is changing the way they think about their jobs, their operations and the way they serve their communities.
With Wayfinder, you:
Can use a tablet purchased and optimized from Transfinder, use an integrated pre-loaded system from approved third party or bring your own approved device.
Are state compliant. You may choose to have the app either go dark while driving (showing schedules only) and receive audible turn-by-turn instructions or have the screen always on.
Choose variable capture rates, to industry best standards
Can utilize TrackMe and RouteBuilder tools.
Track speed and location of your vehicle using the accuracy of the GPS on your mobile device.
Can customize onscreen maps, with familiar navigation tools making Wayfinder easy to use
Provide unlimited users access to RouteBuilder functionality.
Will see map auto-zoom based on vehicle speed.
Drivers can:
Assign trips, select vehicles.
See their schedule.
Pickup runs or stops on-the-fly
Make vehicle substitutions across Transfinder solutions keeping parents & staff informed.
Skip stops.
---
Wayfinder is available in multiple tiers. All versions are integrated with Routefinder to ensure your drivers get the most accurate information from your routing solution.
---
Wayfinder Tier 1 includes: (Tier 1 integrates with Routefinder PLUS)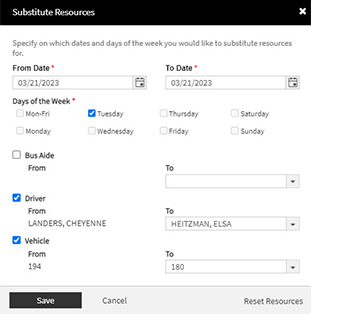 Resource Substitution (Schedule)
Resource substitutions allow you to change the vehicle, driver or bus aide assigned to a trip for a specific day or date range.
Assign a temporary driver, vehicle or bus aide to a trip.
With the integrated suite of Transfinder products, a resource substitution can be applied in multiple Transfinder solutions, including Routefinder PLUS and Wayfinder and parent application, Stopfinder.


Formfinder is embedded in Wayfinder at no added cost. Formfinder is also integrated across all relevant Transfinder solutions. Digitize existing forms or create forms unique for your operation in Routefinder PLUS and make them available at your drivers' fingertips.
For example, discipline forms are a snap and can even include pictures. Pre- and post-inspection forms to help simplify the start and end of each day – all from a mobile device. Nearly anything on paper can be made an electronic form.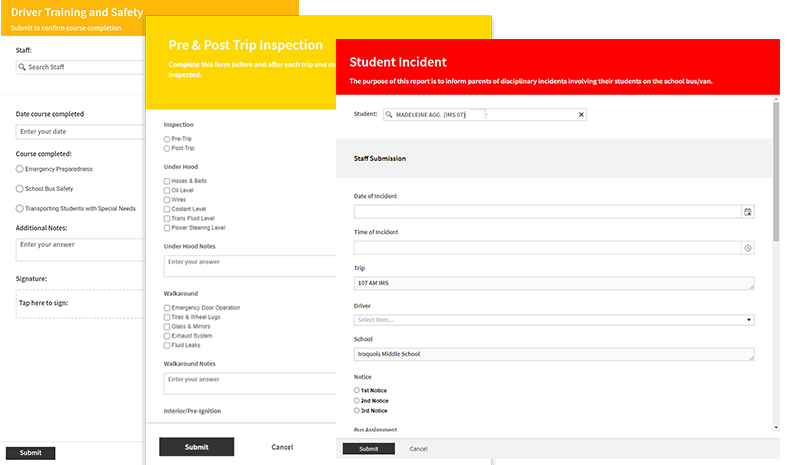 With the Wayfinder RouteBuilder capability:
Remove the stress of implementing routing solutions.
Capture and build routes with your mobile device and publish routes into Routefinder. Your routes come alive as your drivers drive.
Place bus stops on your routes with ease and in record time.
Edit your routes; add, delete and move stops with ease.
Capture new roads, new developments or subdivisions.
Optimize your routes for shortest distance or shortest time.

---
Wayfinder Tier 2: available on Android
Includes all of the great features and benefits of Tier 1 and adds Navigation.
Navigate with Wayfinder
Turn-by-turn navigation using planned route data and your maps.
Utilizes the district's maps to prevent unsafe driving paths.
Spoken directions with the option for the display to go dark while driving for state compliance.
Drivers have access to the latest route changes or can skip and add stops themselves.
Perfect aid for new and substitute drivers.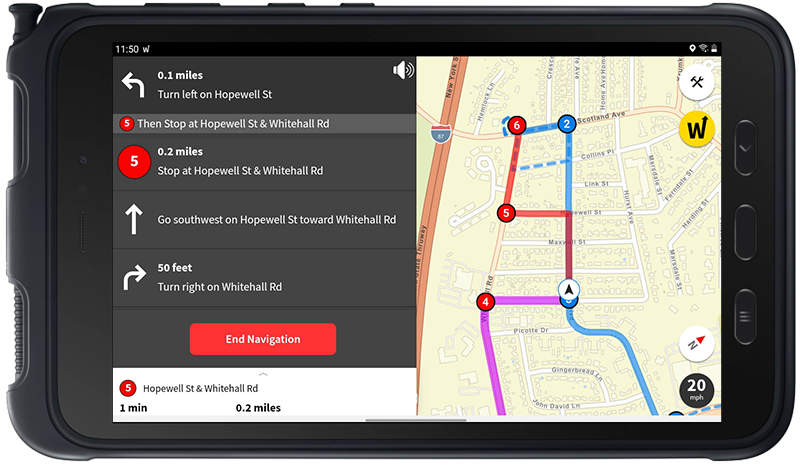 Easily Take Attendance manually on the Tablet
Track daily student ridership for accurate recordkeeping while using Wayfinder for trip navigation. With Wayfinder you can track student attendance as an optional Navigation feature. Attendance tracking allows you to know information like who rides on a given day, where students get on the bus, get off the bus, or if a student is riding who is not listed on the route sheet. Attendance records are available immediately within Routefinder to respond to parent requests and track trip efficiency through dashboards and reports.
With Wayfinder, you can:
Use attendance feature directly in the app on your device
View student photo and rider information
Add students to a bus stop and unplanned riders
Let drivers know planned riders at each stop
Gather an attendance summary when the trip is completed (Student riders vs planned student riders)
Flag students boarding the wrong bus
Capture reliable ridership data that you can even share with parents through our Stopfinder parent app
See on screen if a student is boarding the correct school bus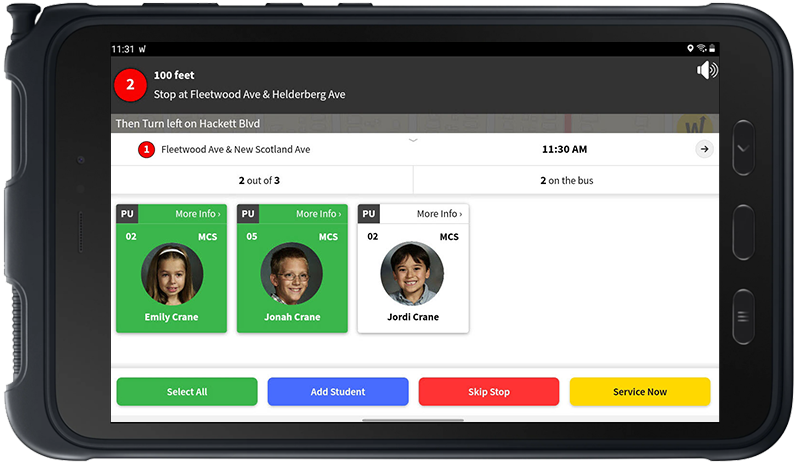 ---
Wayfinder Tier 3: available on Android
Enjoy all the amazing capabilities and features of Wayfinder's Tier 1 and Tier 2 capabilities. In Tier 3, you can:
Stop manually taking attendance
Combine your Wayfinder solution with RFID cards and readers for accurate student tracking
---
Add the Chatfinder app to your tablet, with any tier of Wayfinder for FREE!
Interact with team members in your organization through Transfinder's robust communication platform Chatfinder. Share information with staff and employees quickly from anywhere.
It is critical that your drivers can message securely with the transportation team. With Chatfinder, you can avoid having your drivers use their personal phones. You and the drivers can create individual messages or group messages, and even favorites.
---
The All-in-One In-Vehicle App!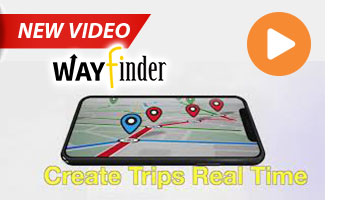 Enhance your fleet by using Wayfinder to Build Routes, Take Attendance and Navigate all from your mobile device.
Save time creating routes – simply drive a route and accurately capture the path, stop locations, driving directions and times.
---
Wayfinder is the latest app innovation from Transfinder that integrates with Routefinder and is backed by a company with over 35 years in the industry.
Contact us today at 800-373-3609 for more information.