Proverbs from Papa: father's advice proves good for business
Keshia Clukey
Reporter- Albany Business Review
June 13, 2014
Though Antonio Civitella's father died two years ago, the CEO and president of Schenectady-based software developer Transfinder Corp. still vividly remembers his papa's sayings, and even runs his business by them.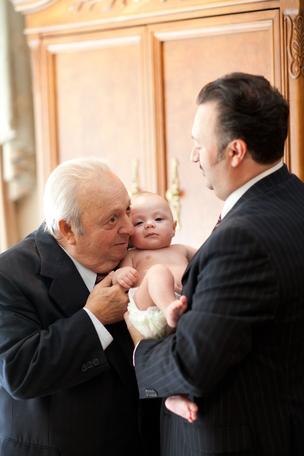 "You just heard these things. I loved it, they were riddles with deep meaning," said 45-year-old Civitella. "Some of these things when you got older they made a lot of sense."
Many of the sayings are farm analogies because Civitella's father, Celeste Raffaele, known to his friends as Raffaele, was born in 1938 and lived on a farm in Italy.
"My father didn't invent proverbs... They were passed down over many centuries. People repeated these things as a way to teach good lessons," he said.
"Life was so much more social then," Civitella said, describing his family sitting around the table talking in proverbs and figuring out the riddles. "They make you think."
Raffaele brought his wife and two children, Antonio and his older sister, to the United States from Italy in 1978, and life was not easy.
Civitella's parent found jobs wherever they could.
"I would end up many times in my early teens in the unemployment line with him to help him fill out the forms," Civitella said. His father would say to him sarcastically, "Look at this life, how easy it is. Ignore education and the odds are you're going to end up here."
From that and the dozens of other lessons his father taught him, Civitella went on to graduate Siena College, a private liberal arts school in suburban Albany, New York. He now owns two companies, Transfinder Corp., a software company, and NYBizLab LLC, a business accelerator for technology companies. Both are located in downtown Schenectady.
Transfinder develops bus-routing software to help schools drive down transportation costs. The company started the year with about 77 employees and expects to reach about 90 by the end of 2014. Revenue increased from $7.9 million in 2012 to $8.6 million last year.
The NYBizLab is a recently formed business accelerator that seeks to attract and develop more young companies in the city.
Civitella said his father died two years ago at 73, but his wisdom lives on.
Here are three of Papa Civitella's proverbs and how they've helped Antonio Civitella build his business:
When the little roosters crow, the big rooster has already sung.
"The big rooster is like the leader in a family. Kids mimic and follow their parents," Civitella said. "As a CEO, I have to know that the actions I take, my employees are going to follow. I set that tone. If I want a certain culture, I set that."
It's also an opportunity for self analysis, he said. "One way to find out how I'm doing is maybe going down the line a little bit. Every single day I walk around and I try to greet every single person in the company.
"Sometimes some of the small details are important. If you don't want things repeated incorrectly, you've got to keep your fingers on the pulse."
When your neighbor's house is on fire, run home with a bucket of water.
"This means learn from other people's mistakes," Civitella said. "In business we have to make a lot of mistakes, it's true, but if you can avoid some mistakes that are obvious, don't do it."
Watch what happens to your competition, learn from its, because it can easily happen to you. For example competitors may come in and feel the way to get business is to price as low as possible, he said, but it's not sustainable.
"I've capitalized on those things," Civitella said.
"There's always forks in the road, you can't just flip the coin left or right. You have to take an educated guess," he said.
The owner's eyes fattens his horse.
"Never lend your horse to someone else because no one is going to take care of your horse as good as you," Civitella said. "To fatten your company, you have to be involved. Take ownership."
Civitella said his decision to move Transfinder out of rented space into a new headquarters that he constructed on State Street was an example of this.
Sometimes you have to take a chance and be responsible for your decision, he said.
"We could ride here for the next 10 to 15 years and not get anymore clients, just ride the wave and not move from a comfortable place."
This move helped Civitella grow his company and now it is expanding its customer base internationally.
"If you put the horse to work even more, you have to feed it more," he said. "You have to invest back into the company when you're successful. In order to continue you have to reinvest into employees, technology and culture. We have to keep on recreating ourselves."