Transfinder in the News: Schenectady uses GPS tech to improve storm response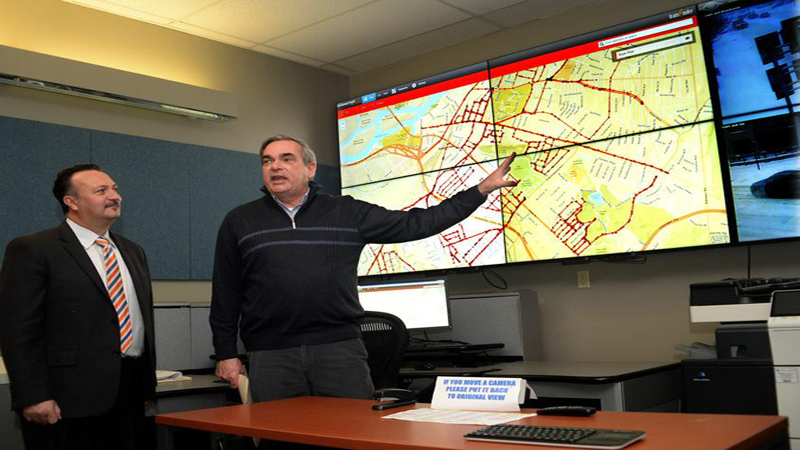 From the Daily Gazette
By Brett Samuela
March 14, 2017
Photographer: MARC SCHULTZ
Click here to view on The Daily Gazette.
SCHENECTADY -- As the worst snowstorm in years bore down on the Capital Region Tuesday, Schenectady public works employees found themselves trying to unclog 108 miles of city streets.
Back at the police station on Liberty Street, several city employees were holed up in an office, keeping an eye on a screen covered in red dots that indicated snowplow locations. Officials took Tuesday's blizzard as an opportunity to test new GPS technology intended to monitor snowplow routes.
"Today is an interesting day because, just with the rate of snow, no matter what we do, we'll be running a bit behind," said Mayor Gary McCarthy. "But it's a good test to get the information in and try and manage the resources."
Schenectady-based company Transfinder developed the GPS technology, called FleetFinder, which monitors the location, speed, direction and maintenance status of vehicles and displays that information in real time.
The idea is to use the information to increase efficiency of snowplows, garbage trucks and other city vehicles. The effort is part of McCarthy's ongoing Smart City Initiative.
Transfinder's beacons, which measure 5-by-7 inches, are now affixed to most of the city's 20 snowplows. The data collection effort served as a beta test, meaning city and company leaders will address any problems before publicly rolling out the technology.
In the city's command center for monitoring the storm, officials had their eyes on two large screens. On one, red dots showed snowplow locations, and red lines indicated where the trucks had been in the past two hours.
On another screen, city officials could cycle through views from more than 200 cameras mounted throughout the city to get live views of the storm's impact.
The idea, McCarthy said, is for city personnel to use information from both screens to improve services. The same information could be applied to making garbage routes more efficient, McCarthy said.
"We're learning from this, but we want to be able to deliver services more effectively, more timely and in a verifiable manner, so that residents of the community can know where our various resources are," McCarthy said.
Eventually, residents will be able to go online and see where a plow is in their area and estimate when a truck last cleared their streets, or when one might arrive.
"It depends on how today goes; we want to make sure everything is worked out and make sure it's perfect, but I'm thinking soon," said Transfinder CEO Antonio Civitella about when the information would be available to the public.
When the technology was first announced in August 2015, the city agreed to pay Transfinder a one-time software fee of $36,695. It also paid Zonar, the company providing the devices, roughly $38,000 in implementation fees.
In terms of ongoing costs, the city pays about $20 per month per vehicle for the devices, McCarthy said. Roughly 70 city vehicles are equipped with the GPS technology..
The devices also provide data on a vehicle's condition, which McCarthy said will allow the city to save money on maintenance costs.
After the technology is fully implemented in Schenectady, Civitella said the company plans on making it available to municipalities nationwide.