How to Improve School Bus Transportation of Students
Image Credit: 3564156/ Pixabay
School transportation has maintained the "safest mode of student transportation" status for decades. This status is mainly due to strict federal standards for vehicle structure and driver oversight. However, while bus designs and national policies have kept students safe, they do not include the safety features that many modern vehicles possess.
Over the past few decades, school buses have remained relatively the same while cars' efficiency and technological development have evolved exponentially. When schools implement similar technology, we see efficiency maximized. The data accrued from this technology, high-quality driver training, and a contextualized system are all effective ways to improve student safety and productivity in school transportation departments.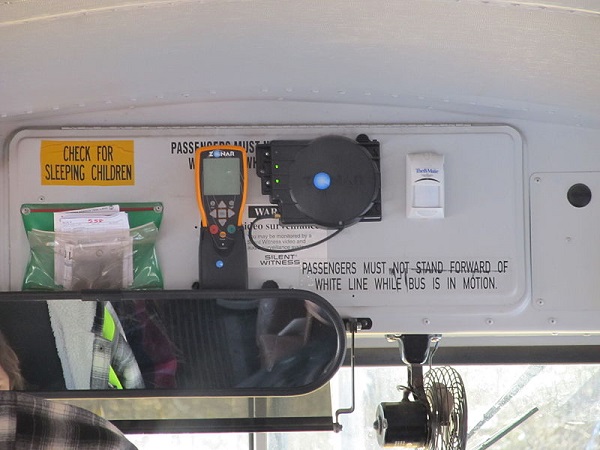 Image Credit: Greg953, CC BY-SA 3.0 , via Wikimedia Commons
Invest in Up-to-Date Technology
In the rise of the Digital Era, vehicles that include information and communication technology better manage traffic flow and detect specific issues in real-time. For example, it is inherently safer to answer your phone at the convenience of a button push than fumbling with your phone and diverting attention away from driving.
From live monitoring to fleet management software, advanced technology assists in avoiding inconsistencies and improving your school transportation system. Technology that can benefit your school transportation includes:
Smart Screens for Bus Drivers: Commercial drivers such as truckers and public transit often utilize smart screens in their transportation systems successfully. Interactive touchscreens improve student ridership safety and security and provide real-time information to drivers. They can communicate with their district, utilize school bus routing software, or supervise students with in-bus cameras.
GPS Tracking Systems: When districts use school bus GPS routing, they receive specific and valuable information like bus location, movement, speed, and much more. Additionally, tracking software records critical information like unexpected stops and high speeds. When this data is audited, school authorities can learn whether drivers behave safely when transporting students to and from school.
Tracking Apps for Parents and Students: GPS can be used in school transportation software – such as smartphone apps – to notify parents and students of their bus location in real-time. Tracking apps allow families to prepare for arrivals and departures and promote a sense of security.
Radio Frequency Identification: RFID technology can monitor the students who board and de-board their school buses. This device is installed at the bus entrance, automatically recording students and further increasing security.
On-Board Diagnostics: An OBD device attached to the school bus tracks things like over-speeding and jarring driving patterns. This type of technology can help you identify a driver's irresponsible driving behaviors. If erratic behavior is determined en route, OBD can even be used to disable the vehicle's engine and send authorities to its location.
Implementing such technology in school districts guarantees that a transport system is standardized across all school departments. It ensures that everyone – from maintenance to higher administration – abides by the standard fleet operations and meets all compliances.
Utilize Data
A significant issue that impacts operational efficiency in student transportation systems is a lack of data collection. Most transit systems track essential information such as cost per trip, length of ride times, and rates of on-time departures. Since school bus systems often do not possess the same technology for tracking data, districts do not gather information regularly, making it hard to maximize efficiency.
However, investing in data gathering technology can help districts collect and analyze information to improve efficiency. School bus management software can help school districts keep track of vehicle records, repairs, and even driver behavior and speeds. Viewing it in one place can help fleet managers evaluate drivers and stay updated on repair services. This vital information is entirely at your fingertips, thanks to advanced data collection technology.
Implement Top-Quality Training for Drivers
When drivers and staff are on the same page, school transportation can be a seamless process. It is recommended that you hire drivers with a history in education or school transport, but regardless of their background, they must be aware of how crucial it is to drive responsibly. Furthermore, drivers should be trained not to behave indecently with the students as they transport them. They should drive and conduct themselves in a way that the safety of the students is never compromised.
Furthermore, incidences involving hijacking school buses and kidnapping school children have grown over the last few decades. These crimes occur while drivers transport students in the mornings and afternoons and during extracurricular events requiring driving in the evening. High-quality training assists drivers in being observant of the activities that take place throughout their drive. It can also prepare them for other unexpected situations like emergencies caused by natural disasters, interactions with disgruntled parents, or students fighting on the bus.
Consider a Flexible Transportation System
School bus systems in an urban school district will operate differently than in a rural or suburban district and vice versa. Students who require special transportation must have access to safe and reliable transportation services. When these services are contextualized, they are significantly more effective than applying the same system across the board.
Input from local communities can assist districts in personalizing these services. Parents, school staff, and your area's organizations can provide valuable information. They are highly beneficial in building an optimal transportation system for your district. Never forget that local communities are critical in designing transportation systems that accommodate all students' needs as efficiently as possible.
Conclusion
The school and public transportation systems are very different, particularly in monitoring drivers and maintenance. As state shares of school transportation funding continue to decrease, there is an incentive for districts to seek ways to save money. Nevertheless, data that improves productivity and student security provide long-term savings. Whether data is generated by school transportation software or the results of a top-notch training program, it creates a clear path toward a transportation system that is right for your district.
By working closely with transport professionals, districts can take full advantage of expertise with new technology and improvement methods – without compromising student safety. Events like COVID-19 have shifted how schools operate, so now is the time to look into the future and plan how to revolutionize school transportation.