N.Y. School District Named Transfinder Ambassador of the Year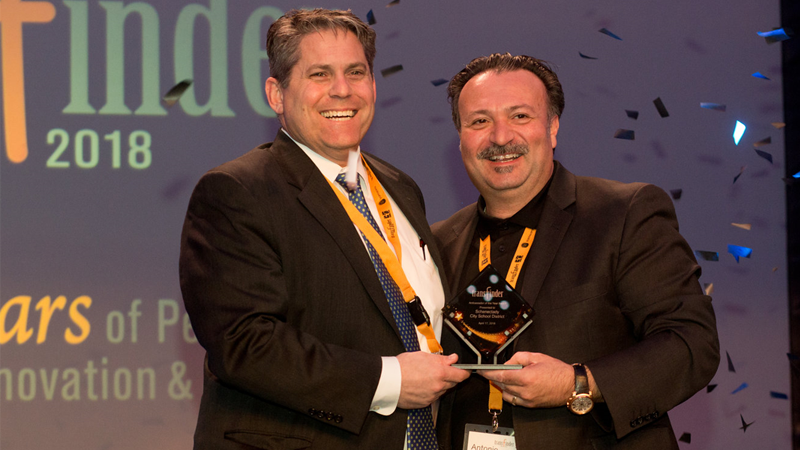 Photo: Schenectady City Schools Superintendent Laurence Spring, left, receives the 2018 Ambassador of the Year award from Transfinder President and CEO Antonio Civitella during the company's Annual Client Summit on April 18, 2018.
From STNOnline.com / Written by Ryan Gray / April 18, 2018
Transfinder closed its milestone Annual Client Summit by recognizing Schenectady City Schools in New York state for being the company's longest client.
The school district purchased Transfinder school bus routing software 30 years ago, and company President and CEO Antonio Civitella said Schenectady has played a critical role in the company's success ever since.
"Schenectady City Schools holds a special place in my heart," Civitella said Wednesday at the ACS in Albany, New York when presenting the district with the company's Ambassador of the Year award. "It is the school system I attended from the time my family arrived in this country from Italy when I was 9 all the way through high school.
"Schenectady City Schools is what officially made Transfinder a company, because it was our first client. I always talk about the importance of that first client, when you go from 0 to 1. Schenectady is that client! And they stuck with us through it all, including the times we had to work the kinks out."
Transfinder customers from 200 school districts in 30 states and Canada saw Civitella present the Ambassador of the Year plaque to Schenectady City Schools Superintendent Laurence Spring. He called Transfinder the "bedrock" of the district's transportation department and a valuable partner.
"In a district like ours, we really can't get things done without partners," Spring added. "We can't go it alone even though we have a transportation department. There really isn't a way for them to do everything they need to do without good, solid partnerships. When I think of all the different places where we have partnerships, some are great, some are okay and some are not good. But Transfinder is already on the 'A' List of partners with their commitment, what they're willing to do for us. They are right there for us to make sure things go well. You can't ask for more."
Spring also thanked Civitella for his commitment to the city and support in recent revitalization efforts.
"Schenectady is a city that has had some difficult times and Tony has played a very significant role in anchoring and growing his business here and reinvesting in Schenectady," Spring said. "We're very pleased to be recognized in this way but truly Tony Civitella is the person we should be honoring."