Seen and Heard Around the NAPT Summit Trade Show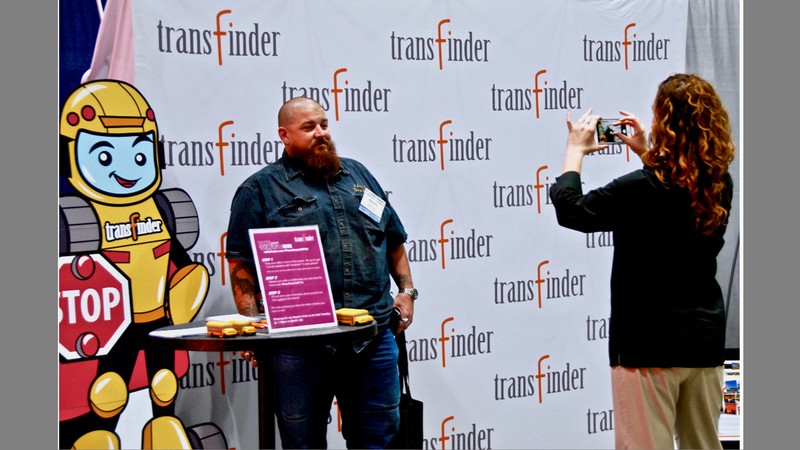 From School Transportation News
Written by Ryan Gray
November 10, 2016
Photo courtesy of Sean Gallagher
KANSAS CITY, Mo. — More than 140 companies exhibited at the 42nd Annual NAPT Summit Trade Show on Tuesday, setting a record for the event.
Transfinder representatives shared with attendees the benefits of the new Transfinder Marketplace, which creates a one-stop-shop for schools seeking solutions to enhance efficiency, safety and security within their transportation departments. The company said its initial rollout highlights "best in class" vendors with products in the following areas: attendance; camera technology; GPS; fleet maintenance; parent portal; professional services; social media; tablet technology; and training.
Transfinder said the Marketplace provides solutions that integrate with Transfinder's products. Transfinder recently signed up its first camera intergration partner, 247Security, as well as four parent portal partners: Here Comes the Bus by Synovia Solutions, MyBusVue by Zonar, SafeStop and Treker. Transfinder added that it is in development with its own parent portal, Stopfinder.
IC Bus demonstrated a new pre- and post-trip inspection app that links to parent company Navistar's OnCommand Connection vehicle diagnostics and telematics software. The BYOD, or bring your own device, app will first hit the Google Play Store for Androids in April. There are future plans to release the app in the Apple Store for iOS devices, a company representative said.
The app features voice recording capabilities to allow driver to make audible notes and to take photos from the tablet to document service items for maintenance staff. The app also allows for remote activation of bus service item,s such as brake lights, stop arms and crossing gates, and it logs how long it takes drivers to complete inspection so administrators can evaluate performance.
The zero-emission electric eLion from Lion Bus has been available for several years, but the Quebec manufacturer boasted a new partnership with ADOMANI as a dealer for the Western U.S., especially California, where the state's Air Resource Board is making available millions of dollars in grant money in a push toward ZEV infrastructure and operator acceptance.
Additionally, ZEVs will be given priority as states begin the process this fall and winter of applying for the $2.7 billion trust the U.S. Department of Justice order Volkswagon to fund for their diesel emissions software cheats.
Thomas Built Buses displayed one of two new Detroit engines that are expected to be made available to customers in late 2018. Detroit returns to the school bus industry with its new DD5 and DD8 diesel engines, the former for the Saf-T-Liner HDX and the latter for the C2. Both engines will feature Detroit Connect diagnostics.
Trans Tech brought its new Star Trans 20-passenger, Type-A school bus built on a Ford Transit chassis. The bus is available in both gasoline and diesel configurations, the latter the first option of its kind in the market since GM ceased diesel production several years ago.
247Security debuted its cost-effective video system monitoring, TD Fleet Monitor, or TD-FM. It is a video-health reporting system that provides school bus operators with the critical metrics of video systems and vehicle health. TD-FM can automatically, or on-demand, provide necessary information to quickly diagnose issues and ensure the fleet is running smoothly. The company said TD-FM will reduce video system maintenance costs, provide cost effective GPS fleet analysis and reduce operation costs associated with liability exposure.
The first to market with Touchdown wireless management, 247Security said it now makes video system monitoring and GPS data solutions affordable for all fleets regardless of size. TD Monitor is supported by 247Security's customer service and leading industry warranties.
Cummins expanded its suite of Connected Solutions to provide optimized support for school bus customers. The company said these data- and analytics-based solutions with email, online or app notifications allow it to monitor engines and deliver accurate, real-time operating information, for a quicker and more focused response to potential issues. Enabled through a telematics device, Connected Solutions allows school districts to improve operational efficiency, and helps minimize downtime during the route, for improved student safety. It also helps reduce costs by extending engine life, increasing uptime and decreasing unplanned maintenance events. Connected Diagnostics is available on all EPA 2007 and later Cummins engines, including Cummins Westport engines for school buses.
Vision Systems exhibited its 360-degree surround camera system for school buses helps to prevent collisions with "Vulnerable Road Users," or VRUs (such as young or elderly motorists as well as bicyclists and pedestrians), as well as other vehicles and roadway objects around the bus. Two camera images either shown together or separately provide two views in front and behind the vehicle, reducing blind spots and displaying VRU's and other obstacles in blind zones. The system consists of four cameras that offer a 185-degree vision field around the school bus plus a 360-degree aerial view. The MOR-Vision Mirror and Monitor inside the bus displays a high brightness image of the vehicle and blind spots.
SafeFleet unveiled two new LED stop arms from Specialty Manufacturing that have been tested to 1 million cycles in the lab. A company spokesman said field tests are underway.
SoundOff Signal is partnering with Blue Print Logix to provide an aftermarket multiplex architecture for remote diagnostics and smart controls for automated, repeatable functions. Bus operators can monitor intermittent connections, log instances and record for technicians the exact location of the problem. It also programs standard marker lights, reverse lights, dome lights, loading door/stepwell illumination and more.
SynTec Seating Solutions displayed its black-back seat covers that are now being rolled out nationwide after the company said districts in Las Vegas, Dallas and Houston have used them over the past several years to reduce vandalism and increase on-board aesthetics for student riders. The black seat covers are available in fire block vinyl in color combinations, such as gray/black and blue/black. The zip-on covers can also be quickly changed out, minimizing downtime for repairs.